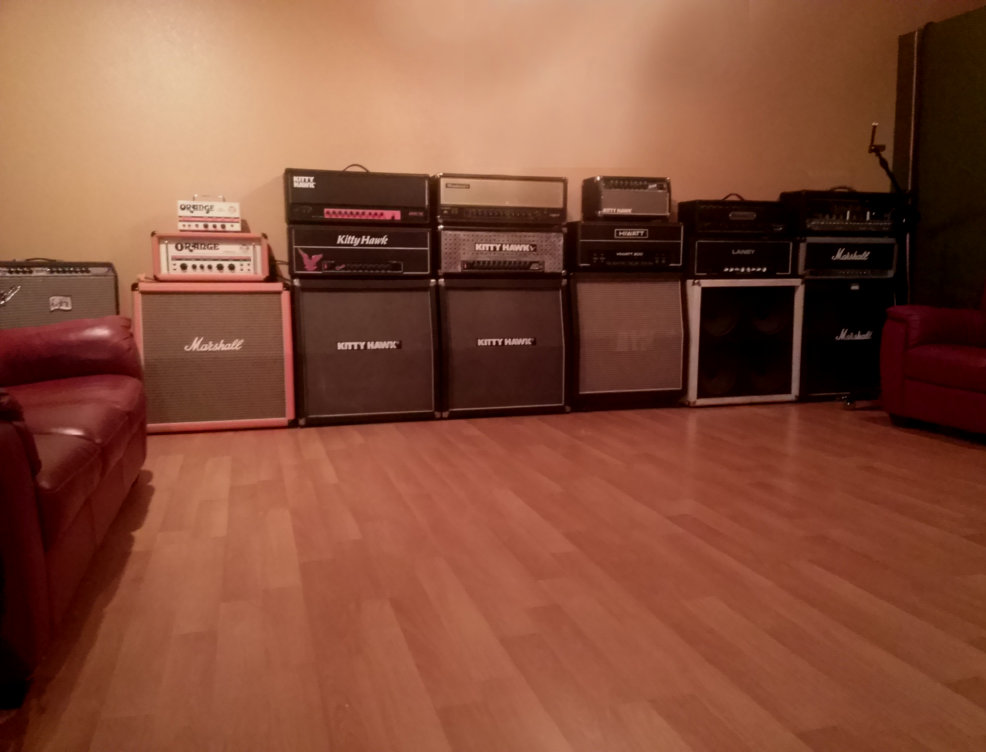 Trident Series 90 console mic pre amps can also be used for recording into Nuendo 3.1
With a great selection of high end classic tube amps, 4x12 and 2x12 cabinets loaded with everything from 25 watt celestions up to 70 watt celestions, Isolation boxes and Vintage amplifiers ranging from Marshall JTM 45, Orange 120 along with Matamp's, Vintage Hiwatts, Laney, a collection of custom handmade Kitty Hawk s ranging from production quattro preamps to 150 watt 3 channel heads that were built for me in the early 90's by Gundolf Roy amongst others such as the Junior, Apache and Eagle heads with various tube configurations from EL34 to 5881's.Other European amps such as Brunetti from Italy and Woodstock from the Netherlands offer not only traditional sounds but sounds that are slightly different, along with our assortment of Ribbon mics and other classic microphones, we can get you a world class guitar sound that is individual to your playing style.
Highly Modified Trident series 24 with updated GRS power supply designed for 56 channels custom ground mod, re capped with much higher values and custom master modual modification designed by Stan Yuishita and sent to be installed by long time dear friend Len Osanic from Fiasco Bros Studios.

We use this console to monitor for Nuendo and for tracking along with the rack of mic pre amps by Focusrite, Avalon along with Trident TSM mic pre amps and eq along withTrident A range mic pre amps with their holy grail eq section. A guitarist's dream!